What Commercial Plumbing Services Does Next Plumbing & Drain Offer?
First and foremost, We understand plumbing issues can bring your business to a screeching halt, Next Plumbing will provide same day priority service for your plumbing Emergency.
Our professionally certified plumbing technicians can provide solutions for all your commercial plumbing needs such as:
Commercial drain and sewer cleaning
Complete waterline, valve, and other commercial plumbing repairs & services
Installation of new plumbing fixtures for bathrooms, kitchens & more
Commercial leak and drainage block detection
Video plumbing technology
Booster pump systems
Hydro-jetting
Sewer line services
Drain lining
Plumbing installations
General repairs
Drain cleaning
Toilet repairs and installations
Faucet repairs and installations
Leak detection
Garbage disposal services
Whole-property repiping
Well pump services
Video inspections
Plumbing remodeling
Water heater repairs and installations
Backflow repair and prevention
General plumbing inspections
Water filtration services
24/7 emergency repairs
And much more…Plumbing from A-Z we are ready to handle any task big or small
When it comes to commercial plumbing repairs and services, efficiency and precision are our highest priorities. Our highly skilled technicians have the experience, knowledge and resources to tackle everything from the smallest repairs to the most complicated commercial plumbing jobs.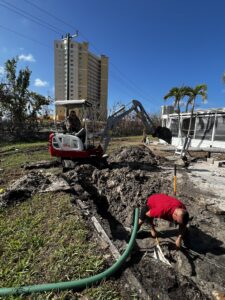 Does Next Plumbing & Drain Provide Plumbing Services For New Construction?
Yes! In addition to plumbing repairs and general commercial services, we are also well-equipped to handle:
Tear-outs of old plumbing systems
Plumbing rebuilds with updated, durable materials
Expansions of your plumbing system
24-hour emergency plumbing service
If it's time for a plumbing upgrade or extension for your business, the Next Plumbing experts are here to get the job done quickly and with the highest quality. Our commercial plumbing experts also follow trends in commercial plumbing such as how to better conserve water. 
Why Work With Next Plumbing & Drain For Commercial Plumbing Needs?
When you call Next Plumbing, our staff will dispatch a professional technician to your location to ensure your plumbing or drain cleaning needs are fully inspected by one of our experts. We will block off the area we are working, making sure your employees or customers are safe and unaffected by our repairs. We also take great care to prevent any damage or staining to your property while working.
In addition, we utilize advanced video plumbing technology to fully investigate drains, sewer lines, water pipelines and more, for a thorough way to detect the issues causing the plumbing problems. This is a much less disruptive way of assessing blockages and leaks, so you can return to "business as usual" as quickly as possible.
Because we understand that serious plumbing problems need to be addressed right away, our team offers same-day and 24/7 emergency appointments. If you are experiencing an urgent plumbing problem, we will be there right away to fix it.