Welcome to Next Plumbing, Fort Myers' leading choice for top-tier sewer line repair and maintenance. Conveniently located at 12821 Commerce Lakes Dr Suite 10, we're here to serve our local community with unmatched expertise and dedication.

Sewer Line Services Near You
Experiencing sewer line issues? You don't have to deal with them on your own. At Next Plumbing, we offer exceptional sewer repair services right in the heart of Fort Myers, ensuring that your home or business runs smoothly without any plumbing hitches.
What Makes Next Plumbing Stand Out?
Top Quality Service: Our team of professionals is committed to delivering only the best. We guarantee swift, efficient, and effective services, ensuring that your sewer lines are back in top shape in no time.
Fair and Upfront Pricing: No hidden charges. No surprise costs. We believe in transparent pricing, so you always know what you're paying for.
Longest Warranties: We stand by the quality of our work, and that's why we offer the longest warranties in the business. Your peace of mind is paramount to us.
Need To Get Your Sewer Line Fixed? Call Our Nearby Experts!
Don't let sewer line issues disrupt your daily routine. Reach out to us, and our experts will be at your service in no time. For inquiries or to schedule an appointment, visit our Contact Us page. Next Plumbing is always here to be your trusted partner in all your plumbing needs in Fort Myers, FL.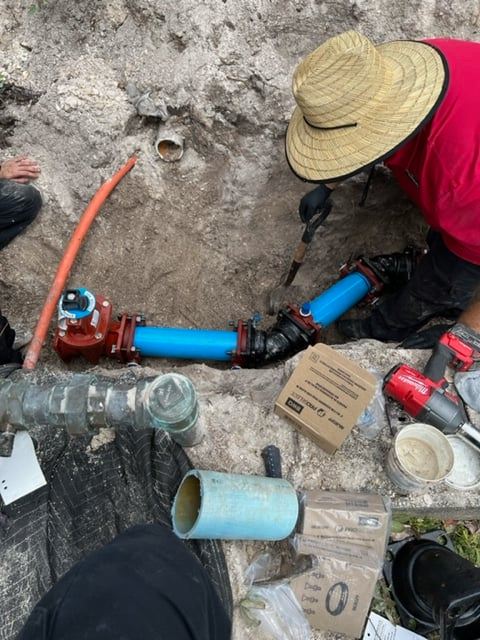 Areas We Serve in Fort Myers, Florida:
33901, 33902, 33903, 33905, 33906, 33907, 33911, 33912, 33913, 33916, 33917, 33919, 33966, 33971, 33990
Botanica Lakes, Fort Myers Downtown Commercial District, Olympia Pointe, Edison Park Historic District, Dunbar, Morningside, Riverside Park, Belle Vue, Harbor East, Palm Lee Park, Poinsettia Park, Serena Park, Piedmont Gardens, Boardwalk Park Place, Eastwood Village, Bowling Green, Arborwood, Shriver, Brookhill, Colonial Oaks, Palms, Altamont Manor, Castlebar Court, Winkler.
Find Us Here:
Next Plumbing
12821 Commerce Lakes Dr Suite 10 Fort Myers, FL 33913
239-540-1444