Water Heater Repair and Installation
Water Heater Specialists Serving the Southwest Florida area
As your water heater ages, the likelihood it needs repairs increases dramatically. This is especially true for a water heater that has not received regular maintenance from a professional. While you may need to find a new water heater to replace your unit if it is breaking down frequently, a unit under 6 years of age can probably be repaired as long as nothing major is causing it to malfunction.
If you need water heater repairs in SWFL, our specialists can diagnose, repair, and restore your unit to full operation in no time. We have been providing plumbing services for residents of Southwest Florida for 30 years. To ensure that your unit functions properly for the long-haul, be sure to hire trained technicians to handle the job.
Our plumbers are proud to offer trusted services on installation for a variety of water heaters. In addition to our regularly scheduled services, we also offer emergency services around-the-clock. If you suddenly lose warm water or if you find that your water heater is flooding, do not hesitate to call Next Plumbing and a member of our team will be out promptly.
What Are Signs I Need Water Heater Repair or Replacement?
Warning signs that may indicate a need for water heater repairs include:
Strange noises coming from your unit
Rusted water
Water that smells odd
Insufficient hot water
No hot water at all
A water leak
Low water pressure
No water pressure
It's been over a year since you last got your water heater checked
Fluctuations in your water temperature
If you notice any of the signs above, it is important to contact a water heater repair company to get your water heater thoroughly inspected and taken care of. Leaving a water heater issue unnoticed may lead to further damages, leaving you with costly replacements that can be avoided with timely services.
No water heater problem is either too big or too small for us to take care of. Whether your water heater is leaking, or you feel that you run out of hot water too quickly, we got you covered. Take a look at what our customers have to say about us, and see why we are the most trusted water heater repair pros throughout Southwest Florida. Let us repair your water heater in no time.
Servicing All Kinds of Water Heaters
Nowadays, many different models and systems for water heating exist on the market and provide different advantages to consumers. We understand that the range of units available on the market means that we need to maintain technical proficiency for a large number of different problems and needs.
We provide service for any type of water heater, including the following:
Electric Water Heater
Gas Water Heaters, Liquid Propane and Natural Gas
Hybrid Heaters
On-Demand Tank Heaters (NEW)
What types of heaters do we carry?
Next Plumbing offers a variety of options for heaters. Most homes heave electric tank style heater. We highly recommend Bradford White heaters for the following reasons:
Made in America

Our heaters are not mass manufactured overseas and sold in big box stores. They are only available to licensed contractors.
HydroJet System

Bradford White heaters come with a HydroJet system. This unique design provides cleaning of the tank walls and internal components. It constantly stirs up and debris not allowing it to settle and causing the tank to rust out and leak.
Longer Lasting

While many other manufacturers rely on extended warranties, Bradford White does not. When you purchase an extended warranty through another heater manufacturer, they will replace or add an additional anode rod. They replace the magnesium anode rod, or even add an aluminum anode rod, to the tank. The magnesium rod is rated to last 6 years, whereas the aluminum anode rod is rated to last ten years. Bradford White does not. All our heaters come with an Aluminum anode rod from the factory.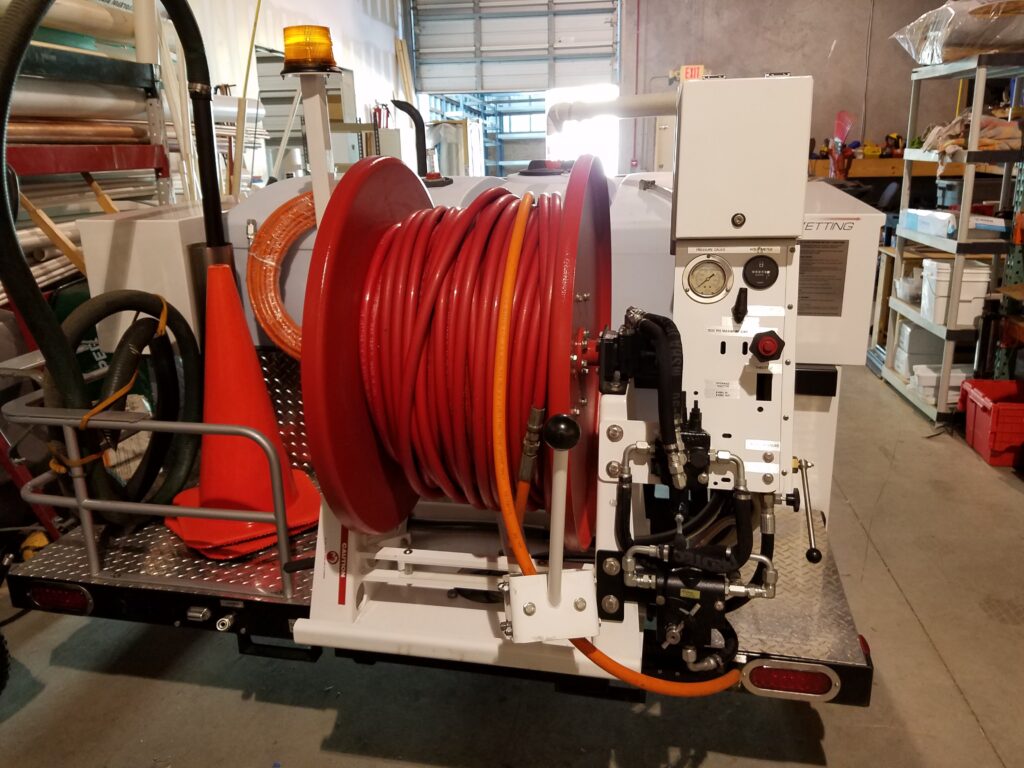 Why Choose Next Plumbing for Your Next Water Heater Service?
We offer 24/7 emergency services at no extra charge with same day service for emergencies
For the past ten years, we've been voted "Best Customer Service, Best Plumbing Company and Best Water Filtration in Southwest Florida"
We offer financing options to make your water heater service more affordable
We have fully stocked trucks to complete your water heater service quickly and efficiently
We offer up front pricing, extended warranties, and customer satisfaction guarantees
How Long Do Water Heaters Last
A water heater can last between 6 & 10 years. Anything beyond 10 years is borrowed time. The tank's longevity is affected by the type of water running through it and whether you have maintained draining and flushing the tank every year as recommended.
Is There Anything I Can Do To Make My Heater Last Longer?
We highly recommend routine maintenance on your heater. It is a big investment and something we don't think much about until it is too late. When heaters reach the end of their lifespan, they often leak causing damage to your home and your belongings.
Tank heaters

We recommend flushing the heater at least once per year. This process helps remove the sediment and debris from building up in the tank. When you have debris settled at the bottom of your tank, it expedites the rusting of the internal tank and causes the heater to leak. Next Plumbing offers a Customer Protection Plan (LINK) which includes flushing your heater, and testing all heater components for proper operation.
Tankless heaters

Tankless heaters also require routine maintenance. We recommend performing a chemical descale of the heater annually. This process removes any buildup on the internal components and piping of the tankless heater. It also helps keep your potable water system clean and flowing smoothly.
How Do I Know If I Need a New Water Heater
Many homes depend on the availability of having hot running water for their showers, cleaning dishes and even for laundry. The bigger the household the more demanding it is on your water heater. As time goes on, you will start to notice your water heater showcasing signs that it needs to be replaced. Below we have provided you with, "5 Signs it's time to replace your water heater".
Water Heater is Old – We know that not all water heaters last forever. Most residents that are in a home for any length of time will eventually face the moment where they need to replace their water heater. The problem with this is that most homeowners aren't very aware of their water heaters expiration date. Water heaters will typically last anywhere between 6 and 10 years, you should look into replacing your water heater after it's passed a decade of use from the day it was manufactured.
Rusty Water – Have you noticed when you turn on your faucets in your sink or bathtub that rusty water is coming out? The chance that your water heater is rusting, is pretty high. When a water heater reaches or passes it's expiration date, rusting is inevitable.
Strange or Odd Noises – Another sign of needing water heater replacement is strange or odd rumbling noises that come from your water heater. Often times sediment buildup will form towards the bottom of the water heater tank. As this sediment continues to buildup and harden it takes up more and more space in the water heater. As the water boils, the bubbles inside will pop much closer to the ceiling of the water tank, which causes those odd noises and can lead to an eventual leak.
Puddling Around Unit – If you have noticed your water heater leaks when standing or water pudding around the tank. It's a clear sign that your water heater is at its last straw. These issues can escalate, causing severe flooding if the tank breaks. This can also be a symptom of electrical failure posing an extremely sever risk.
Lack of/ or Too Hot of Water – When the water in your tank isn't hot enough, you have to use more of it to keep it at a comfortable temperature, causing wear and tear. Lack of hot water is a sign that your water heater is failing, and you should consider replacing it. On the contrary, if your water has become unusually hot, this is a symptom that one of the electrical components have failed and repair is eminent.
We can assist you with the following:
Installation of tank and tankless water heaters and everything in between
Installation of indoor and outdoor water heaters, commercial water heaters, and small compact water heaters
Water heater compliance with city and county codes
Water heater replacement, including advice on which type of heater may work for your home or offices' needs
Repair a variety of water heaters, including GE, Whirlpool, Rheem, and AO Smith, Bradford White, State, Ruud and many more.
Further Reading