Tankless Water Heater Services
Experienced Plumbers Serving All Lee County
Are you interested in updating your water heater? Switching to a tankless water heater system can be extremely beneficial and can help update the quality of the hot water in your home. Many newer homes already implement tankless water heaters, but older ones often use traditional water heater systems. When it comes time to replace or install a water heater in your home, consider whether or not a tankless heater and our tankless water heater services could be the ideal fit for you.
Why Choose Us?
At Next Plumbing, our team of experienced plumbers can help you with your hot water heater repair, installation, replacement, or maintenance. For more than 30 years, our water heater experts have been helping customers decide on what best suits their needs for their residential or commercial property.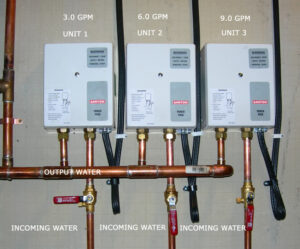 Is a Tankless Water Heater Right For You?
While traditional water heaters heat and store hot water ahead of time, tankless water heaters warm water as needed. Traditional heaters will store between 40 and 50 gallons of water, typically, and transport that water to the faucet when you turn on the hot water. This system can be extremely convenient, until you run out of hot water. When the store of hot water empties, you have to wait for the traditional heater to warm up a new collection of water.
The tankless heater will not run out, but will immediately begin heating the water as it is dispersed into your plumbing system, where it will travel out your faucet.
Tankless Water Heaters Vs Traditional Water Heaters, which is better?
Tankless Water Heaters:
Energy Savings

– According to Energy.gov, "For homes that use 41 gallons or less of hot water daily, demand (or tankless) water heaters can be 24% to 34% more energy efficient than conventional storage tank water heaters." Tankless water heaters (if gas-fired) can save homeowners over $100 annually the longer they remain in service. Electric tankless water heaters can also save homeowners upwards of $44 per year according to the US Department of Energy.

Hot water whenever you need it

– On demand style heaters instantly heat the water to provide you with hot water when you need it, immediately.
Longer lifespan than storage tank water heaters.
Smaller than traditional water heaters
Traditional Water Heaters:
Cost of Repairs

– Because of their simplicity, traditional water heaters do not have complex systems or parts that need to be repaired and make repair inexpensive.
The initial purchase of a traditional water heater is much lower than a tankless water heater.
Lower maintenance cost.
Does not require additional power to operate. Most tankless units do require additional power.
On-Demand tank heater
This is a new product that is storming the market.
It uses a mix of tank and tankless technology to heat water quickly and efficiently.
Much greater life expectancy than both tank and tankless heater.
Lower energy cost. It runs off the same power of the tank style heater without having to keep 40+ gallon of water heated at all times.
Let Our Plumbers Help You!
Whether you have a tankless water heater that needs attention, or you have a traditional heater you'd like to upgrade from, we can help. We provide tankless water heater services in Southwest Florida that include repairs, regular maintenance, and installations. If you have an old, dated water heater, we can also replace it with a new, tankless system that best suits your commercial or residential property.
Our professional plumbers are available for emergency services 24 hours a day, 7 days a week at no extra charge. We are family owned and locally operated, so you can be sure that when it comes to personal service, we pride ourselves in giving our customers the very best.