ADA Plumbing Services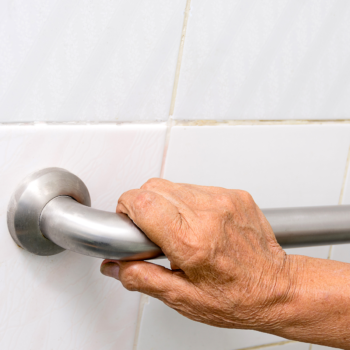 Often, the smallest room in the home is one of the most dangerous for our loved ones.
Let's face it, there comes a time in life we could all use a helping hand. ADA Fixtures, helping You Make Things Easier & Accessible
ADA plumbing fixtures and restrooms can make all the difference for a family member in your home with a disability or simply for safety reasons. Likewise, handicap-accessible restrooms are required by law in all public buildings. Public restrooms must have sinks and toilets that are accessible for patrons with disabilities.
Whether you need to add some ADA bathroom fixtures or remodel a commercial bathroom to make it more handicap accessible, turn to Next Plumbing. Our team of trusted plumbing professionals can help make sure that your home is appropriately accessible for handicapped family members, and that your professional business is up-to-code with all handicap laws.
Slip and fall accidents are a reality for millions of people, especially seniors.
There are many things that can be done to improve bathroom safety for elderly people, such as:
Updating lighting
Adding grab bars safety rails
Getting organized
Installing a walk-in shower
Using a shower chair
Keeping everything handy
Using non-slip mats
Raising the toilet
Adjusting water temperature
Using a help button
Plumbing Requirements for Public Restrooms
Did you know that all public restrooms are required by law to be handicap accessible? There are specific laws in place that businesses are required to follow in order to ensure that bathrooms are wheelchair accessible and that individuals with disabilities are able to properly use the restroom.
ADA Compliant plumbing for a public business will include:
Toilet seats that are no higher than 19 inches off the ground, and no lower than 17 inches
Manual flush valves that are at least 44 inches off the ground
Faucets on sinks must be able to turn on and off with little pressure or Hands-free faucets with sensors that detect hands under the faucet or single-handle faucets that can be easily turned on and adjusted will make the sink more accessible.
Shower floors must be skid resistant
Grab bars must be spaced appropriately throughout the restroom and bathroom stalls
Sinks – There should be ample room around sinks to allow for maneuverability. It is suggested to leave an open rectangular space of 30 by 48 inches around the sink to avoid swinging doors. Sinks should be mounted with enough knee and toe clearance underneath for easy accessibility.
Install a lower-placed mirror, an extra-long mirror, or a tilt mirror for everyone to use.
For full list of ADA requirements go to ada.gov
Comfort & Safety should go hand in hand
Our office can help remodel your home's bathrooms and kitchen to ensure that the appliances and fixtures are accessible to wheelchair-bound family members. We can adjust toilet seat heights, install handicap accessible showers and bathtubs, and remodel fixtures and plumbing to keep your family comfortable and safe.
Call Next Plumbing Today!
At Next Plumbing, our team is highly experienced in providing complete customer satisfaction. As a locally owned plumbing company, we will use our knowledge of the various buildings codes and local laws to help ensure that your home or business is within the regulations for handicap accessibility. We will also help you choose fixtures and appliances that are compatible with handicap individuals, and we can work to install and remodel bathrooms to make them code-compliant.