Garbage Disposal Repair & Installation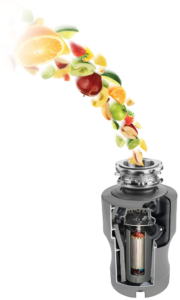 Helping You Maintain a Clean, Sanitary Kitchen
Is your garbage disposal acting up? Has it stopped working, or does it create a terrible sound when you turn it on? Are you getting a foul smell around the sink?
At Next Plumbing, we can address the issue with your garbage disposal and repair or replace the system promptly and efficiently. We are proud to be the premier plumbing specialists in Southwest Florida, and we stand by our work with a 100% customer satisfaction guarantee.
Repairing & Installing Garbage Disposal Systems
In some cases, garbage disposals may just need a simple reset, but most times, your garbage disposal should be inspected by a seasoned plumbing professional. Our garbage disposal services can get your unit up and running in no time!
In addition to garbage disposal repair, Next Plumbing also offers installation of new units. Our trucks are stocked with 6 different options. All our options provide features not commonly found in typical disposals.
NO MORE JAMMING!
Our disposals have an automatic reversal feature. You no longer have to find that hidden key, move all of your cleaning supplies, crawl and contort to fit under the sink, spend minutes locating the hole, wrenching that thing around in hopes that it unjams.
All our disposals automatically unjam at the flick of a switch!
We also offer options with the following additional features:
Quiet sense technology – Dispose of waste with only a whisper!
Silver Saver – Stop silverware and bottle caps from damaging your disposal!
Stainless steel drum – be worry free and rust free!
Multiple sized options to fit your plumbing system needs.
Garbage Disposal Warranties
Our warranties range from 5-10 years. That is over twice the average warranty. Most disposal companies must send a separate plumber to verify the warranty, then authorize warranty replacement or repair, then schedule a second visit for the work to be performed. Who knows how long this process may take. This whole time you may be experiencing a major leak under your sink and not be able to use it, whole you wait…
Not at Next Plumbing. We warranty all our products in house. We arrive prepared to replace the unit on the spot. (Even though that is a rare occurrence.)
Some common complications garbage disposals encounter include:
Leaking seals and hoses
Impeller wears down
Cutter disks become jammed with food
Grease buildup on the moving components
Large food items and fibrous or hard to break down food
Burnt-out motors
---
Need Help in the Kitchen? Call Next Plumbing!
If you have noticed a funny sound coming from your garbage disposal or if the smell of old food is stinking up your kitchen, you may need a new garbage disposal. Let Next Plumbing and our garbage disposal services put your mind at ease! We are a trusted Angie's List Super Service award winner, and we hold outstanding customer satisfaction guarantees.