Leak Detection & Repair in SWFL
Let Our Experts Quickly Fix Your Leaking Pipes
Do you hear dripping water running, have a higher than normal water bill? Can you see where your pipes may be leaking? Don't worry — Next Plumbing is here to help! Our team of qualified and trusted plumbers has been assisting our customers with leak detection services in all SWFL for years, and we are confident that we can help you, too.
We are proud to have received the Angie's List Super Service Award for Twelve years in a row, and voted Southwest Florida's Top Plumbing company for Ten years in a row. Next Plumbing & Drain is Florida state licensed contractor, insured, every plumber is fully cleared from an extensive background check. You can be confident that your home and your plumbing are in good hands when you work with us.
What Do Leak Detection & Repair Services Involve?
Leaks can occur in any area of your home but are most likely to happen under the concrete slab of your home. Next Plumbing uses state of the art electronic leak location equipment that utilizes visual and audio devices to pinpoint the leak. Next Plumbing & Drain also uses moisture detectors, ground penetrating radar, and temperature sensors to locate hard-to-find leaks. 
At Next Plumbing, we are prepared and well-equipped to detect leaks in pipes, walls, slab leaks, floors, and anywhere the water lines are installed.
Our trusted leak detection and repair services Marco, Naples, Fort Myers, Cape Coral to Sarasota involve the following:
Determining where the leak is happening in the pipe system
Locate what the cause of the leak is
Work with you to repair the leak or replace the pipe as necessary
Provide every possible option to not only repair the leak but protect your home from future leaks.
Video inspection of the pipes upon completion to ensure that the pipes are fully repaired
Having an experienced leak detection expert working with you can help save you time, money, and costly repairs to possible damaged floors, walls, and foundations.
If you have high water usage, hear dripping or running water, see pooling or discoloration on walls, or if you suspect that a leak may be occurring anywhere on your property, our team has you covered.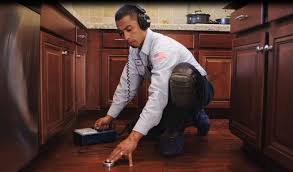 Is There a Leak Emergency? Next Plumbing Can Help!
Next Plumbing understands that sometimes, emergencies happen, and leaks do not always occur during regular business hours, which is why we are proud to provide emergency plumbing services in Fort Myers and the surrounding areas.
We will quickly respond to all emergency calls and help detect where a leak may be occurring and quickly fix the leak. Don't wait until it's too late! Our team is on-call 24/7 to help with any of your plumbing emergencies.